Details

Category: English Sahitya
Published on Wednesday, 10 October 2012 18:48
Written by admin
Hits: 832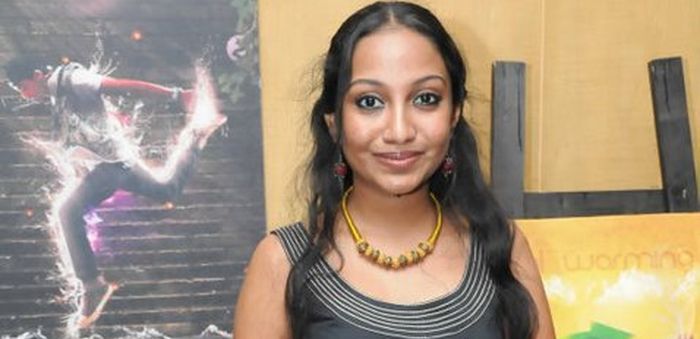 "Sometimes she felt like she had his balls in her purse, and was desperate to return them, but that would involve acknowledging she had taken them in the first place. He was a watch collector, a failed auteur, a misogynist. She was the kind of woman who would crack a rib if someone looked at her too sweetly, and cry for six months if he didn't a masochist. They fit together, but with some effort, like Tetris blocks."
Sharanya Manivannan was born in Madras and grew up in Sri Lanka and Malaysia. She is a poet and also a spoken word artist. Her first book of poems, Witchcraft came out in 2008 and was deemed as "sensuous and spiritual, delicate and dangerous and as full as the moon reflected in a knife" by The Straits Times, Singapore. She is currently working on a book of stories (The High Priestess Never Marries), a novel (Constellation of Scars), as well as two manuscripts of new poems (Bulletproof Offering and Cadaver Exquisito)
Amrita Paul talks to Sharanya about her work and her inspirations.
Q. 'Witchcraft' is a rather interesting name for a book of poems, I am sure I am not the first one to ask you this, but
why Witchcraft?
Sharanya : I was and I am still interested – in the concept of personal alchemy, of living and performing in one's element. Many cultures have a word for the intrinsic magic of certain people, things and inspired moments – in Andalusia it is duende, in ancient Tamil Nadu it was ananku, in Indonesia it is taksu, among the Huichol people it is iyari. People who wholly inhabit their element, particularly women, often do so askance from social codes, and are punished for it in ways big and small. The poems in that book primarily concerned themselves with identity and situating oneself in the borderlands – and thriving, if possible, without rescinding that personal magic.
Q. Your poems have a distinguished sense of mysticism, were you conscious about the same while penning down your anthology of poems?
Sharanya : I am conscious of it, but it is not contrived. There is a great deal of the magic in everyday life, and I am sensitive to it. It is how I live. Of course it is very much in my work as a result.
Q. Some of your work like the 'Poem' for example, is free flowing and often seem like a prose. Hence I wanted to ask, do you work on your structure before writing down a poem or you write as and when you feel like it?
Sharanya : I rarely plan structure, unless I am writing a ghazal, sestina, haiku or other formal verse. And I only write when I have something to write. I have not written poetry in over a year, with the exception of a couple of formal exercises I attempted in order to break through the block. Impulse and spontaneity are a big part of my process. I spend a lot of time waiting, researching, thinking, being in the world or at least accessing it through books and films. But when I actually work, I work like a demon. All that percolation usually means that things arrive at once and whole -- what you see published is often the first draft.
Q. On reading your work, both prose and poetry, for the first time, the feeling often lingers on. The readers are often left in a sense of void, wondering what could have happened next. Do you intend on evoking such a reaction?
Sharanya : Maybe more in prose than in poetry. In poetry, I think only of a particular moment or experience and the palette of emotions within that space. In prose, I prefer to not tie up all the loose ends. I don't like cliff hangers, but I do like to leave my characters at open-ended points, without making a choice for them.
Q. You discuss about love, religion, spirituality and nature at length in you works, every time taking a different peg, telling a different story. How do you manage to do that?
Sharanya : I am not sure how much religion plays a part in my work, but the hybrid of spirituality and nature is certainly important. As is love, particularly in its absence. It is nice of you to say that I take different pegs and different stories – there is a danger in being repetitive, and it's not always clear to the writer (who herself is too deeply entrenched in the work and the making of it) whether or not this is happening.
Q. Does personal experience play a role in what you write or is it mostly objective?
Sharanya : Oh I have no imagination whatsoever! But I am compensated for this through "an interesting life", in the vein of the Chinese curse, and a particularly technicolour magic realist pair of shades through which I see the world.
Q. You had once said in an interview, "Never underestimate the poetic value of a broken heart." Is personal pain crucial to write exemplary verses?
Sharanya : I believe it is not pain that is important for poetry, but vulnerability. Vulnerability is neutral – it simply means openness and receptivity. When I stopped being able to write poetry, mid-last year, I was at a point in my life when I needed to protect myself. Vulnerability was a luxury I could not afford. I have been very fortunate to be able to write fiction instead, although I wonder often when – or if – the poems will return.
Q. When can we expect your novel, Constellation of Scars to be out?
Sharanya : I don't know. What I can tell you is that I am almost finished with a manuscript of short stories, "The High Priestess Never Marries", and finding agent representation or a publisher is what's on my mind next. The stories are about love and consequence, about what it means to live and love and choose as a complicated woman in a conservative time or society. I think of it as a feminist work, grappling with the question of whether it is possible to both have love and be free.
Q. Name two writers and poets who inspire you?
Sharanya : Louise Erdrich and Michael Ondaatje.
Q. What book are you presently reading?
Sharanya : I need to have information coming at me all the time, so I am usually in the midst of at least five books at once – a mix of short and long fiction, non-fiction and poetry. Right now, I am reading or rereading "The Paris Wife" by Paula McLain, "The Beekeeper's Lament" by Hannah Nordhaus, "The Anthropology of Turquoise" by Ellen Meloy and two annotated translations into English of Andal's Tiruppavai and Nachiar Tirumoli.
Q. Lines/Quotes you like going back to time and again?
Sharanya : "I must go home periodically to renew my sense of horror" from Carson McCullers was my email signature for some years. But I'm not truly that sardonic. I have notebooks full of quotes I love, though they spring to mind only when they are needed. For one of the manuscripts I have in progress, a collection of poems on Sita (earth) and Lucifer (stars), I have this epigraph, a Serbian proverb: "Be humble for you are made of earth, be noble for you are made of stars". The epigraph I have in mind for "The High Priestess Never Marries" happens to be Biblical. Make of that what you will!
Amrita Paul
(Click here to Visit Sharanya website to know more about her poetry and her work. )
About Amrita
I write. I read. I eat. I sleep (a lot ). I love dogs and someday I would want to travel and write and hog on good food for a living :D Some say I am a feminist, I say- " Is it necessary to define every ounce of passion arising from an individual?" I think not. Anyway that is me :)
iSahitya